Jeffrey Murray
---
Member Artists
Jeffrey Murray is an aspiring new potter to the Guild. As a ceramic student started his training in 2014 with a focus on throwing on the wheel. He came to the Potter's Guild to expand upon a craft that he
had been working on for the past 10 years. That craft is that of percussionist and drum maker. As a drummer he wished to develop and create his very own design of a ceramic Middle Eastern drum called
a Doumbek. Doumbeks are goblet shaped drums with a 5000 year history and can be found throughout the Middle East and Asia. Aside to drums he has taken on the challenge of being a versatile potter in crafting a verity of Vases, platers, large bowls, and may other beautiful pieces that can be found on display in the gallery of the Potter's Guild of Baltimore.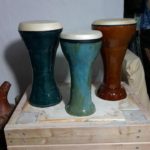 Copyright © 2016 The Potters Guild of Baltimore, All Rights Reserved.