2012 Holiday Show
---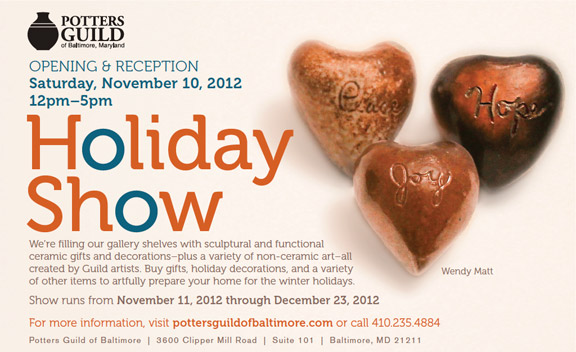 The Potters Guild of Baltimore is celebrating the winter holiday season with its 2012 Holiday Show.
We're filling our gallery shelves with sculptural and functional ceramic gifts and decorations–plus a variety of non-ceramic art–all created by Guild artists. No production pottery, only one-of-a-kind ceramic pieces. Buy gifts, holiday decorations, and a generous variety of other items to artfully prepare your home for the winter holidays.
Show opening and reception on November 10, 2012 from 12:00 pm – 5:00 pm. The entire show runs from November 11, 2012 – December 23, 2012, and is open during regular gallery hours (Thurs – Fri 11:00 – 4:00 pm and Sat – Sun 12:00 – 5:00 pm).
Contact us by phone at (410)235-4884 with questions.